Terry Naturally Europharma – Herpetino® Shingles Skincare Lotion – 3.5 oz.
$19.16
3.5 oz (100 mL)
Soothing, Softening, So Gentle
Non-irritating
Non-greasy
Wax-free
In stock
Description
Herpetino Shingles Skincare Lotion is unlike any other shingles skin lotion. This European favorite is now exclusively available in the United States from Terry Naturally®.  It combines GH2002®Propolis with ingredients that help it absorb, soothe, and soften to help improve the appearance of skin.
Active, Soothing Ingredients
Herpetino® Shingles Skincare Lotion is easily absorbed and specially formulated with soothing and softening ingredients.
GH2002 Propolis: A trusted, tested ingredient, GH2002 Propolis is purified to be hypoallergenic and is wax-free for excellent absorption and softening, soothing effects
Evening Primrose Oil: Supports smooth, healthy looking skin
Vitamin E: An essential antioxidant, and a perfect ingredient to help improve the appearance of skin affected by shingles
Panthenol: Also known as vitamin B5, panthenol helps improve skin appearance and moisture balance
Allantoin: Potent ingredient for soothing and softening results

See and Feel the Difference!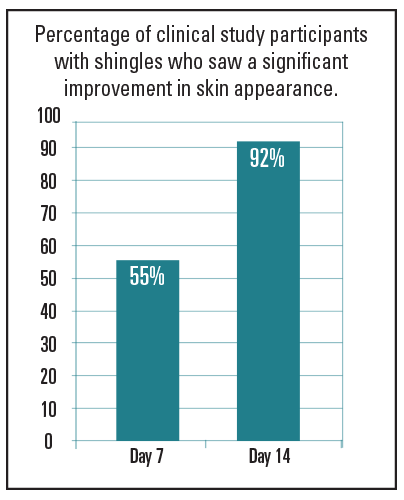 Easy to Use: Apply to skin to gently soften and soothe.
Ingredients: aqua (water), propylene glycol, Oenothera biennis (primrose) oil, sodium PCA, cetearyl alcohol, octyldodecanol, panthenol, ceteareth-30, stearic acid, dimethicone, allantoin, tocopheryl acetate, propolis extract, phenoxyethanol, bisabolol (chamomile), carbomer, sodium hydroxide, citric acid.
Percentage of clinical study participants with shingles who saw a significant improvement in skin appearance.
This lotion is not intended to treat shingles or the underlying shingles virus. Consult your healthcare practitioner for proper medical care if you think you have shingles.
Product of Germany.