Terry Naturally Europharma – Ageless Radiance Multi-Packs
$60.72 – $91.08
2 and 3 packs
30 Capsules
Sun, wind, oxidative damage, and age all take a toll on natural beauty. Ageless Radiance is a proprietary blend that stimulates the skin's healthy rejuvenation process, safely and effectively. French grape seed, SuperOxide Dismutase (SOD-B®), zinc citrate, vitamin C, boswellia, and curcumin combine to:
Even out skin tone and pigmentation
Reduce dark circles
Fade areas of redness and other imperfections
Revitalize dull complexions*
Description
Healthy skin from the inside out!
Ageless Radiance™ increases skin firmness by 55% and skin radiance by 62%!†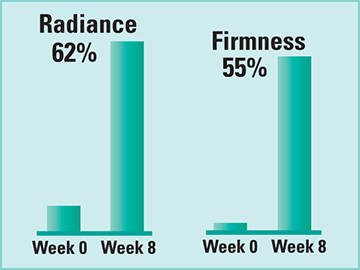 VEGAN     NON-GMO
If pregnant or nursing, consult a healthcare practitioner before use.
---
Taste For Life
WOMEN'S ESSENTIALS IN BEAUTY SUPPLEMENT CATEGORY
Award Winner 2017
Better Nutrition
BEST OF NATURAL BEAUTY
Award Winner 2017
Delicious Living
BEAUTY & BODY
Award Winner 2017
† L'emerelle™ Complex was clinically tested in France, on 35 healthy women who complained of a dull complexion. Participants received 150 mg of the complex per day for 8 weeks.
There seem to be so many different types of skin products on the market. What makes this one unique?
First of all, as opposed to skincare products that you apply topically, Ageless Radiance™ is a safe, effective dietary supplement that improves skin health from the inside out. Second, this product is clinically studied. The L'emerelle Complex™ in Ageless Radiance was tested under dermatologic control, and had very impressive results. In just 8 weeks, study participants reported noticeable improvements in skin luminosity, radiance and firmness.*†
I've heard of most of these ingredients before, but SuperOxide Dismutase is new to me. Can you tell me more about it?
SuperOxide Dismutase is referred to as SOD, and is a potent antioxidant that is found in all aerobic living organisms. In humans, SOD is extremely beneficial for providing protection from free radicals. Levels of SOD decline with age, which makes it extremely important to obtain it from outside sources. The SOD in Ageless Radiance is obtained from a unique French variety of melon fruits and has been demonstrated to be the best source of SOD available on the market.
If pregnant or nursing, consult a healthcare practitioner before use.